Have you noticed how many businesses are now using video across their online marketing channels? Simply put, video content marketing works.
In today's increasingly competitive marketplace, it's crucial to find new and immersive ways of making your product or service stand out in the eyes of your target audience. As "content overwhelm" becomes more of an issue for many browsers, videos can offer a quick and simple way for you to provide your customers with information and entertainment.
Now that people are living with ever-more hectic schedules, your consumers would often prefer to watch a 2-minute video instead of taking fifteen minutes to read the same information in a blog. While blog posts and other types of written content have their part to play in the content marketing strategy, video is one of the best ways to engage your audience. Despite this, Content Marketing Institute's content marketing trends report find that only 60% of B2B brands use video.
Video allows you to get a substantial amount of important information across in the shortest period of time (perfect for all of your busy prospects and customers!).
It is also an amazing medium that can convey the values of your brand, why your business or service is different, as well as tell an engaging story (humans are a race of storytellers; it's one of the evolutionary tools our species developed to build and strengthen our social communities).
So yes, video is staggeringly effective whether you are a start-up, a growing SME or an establish enterprise corporation.
With the digital and social age in full swing, let's discuss why video content is so important compared to other media formats and how it can impact your growth.
Discover the Value of Video
Video is one of the easiest content forms for your consumers to access. Your people can watch videos when they're on their smartphone, at work, or waiting for the train. Around 64% of teenagers are watching less TV and making more time for online video, highlighting the potential of the media in the years to come.
As the consumer generation continues to change and evolve, now is the perfect time for companies to re-think their content strategy and start making the most out of video. Of course, before you can launch your plan, you need to learn as much as you can about the nature of video marketing.
Where do you stand with video content marketing right now?
Does your business make use of a video content marketing as part of online your marketing efforts? Don't feel bad if the answer is no, you are probably reading this blog because you are trying to understand this powerful medium in greater detail.
Perhaps you previously thought you didn't have time to create videos, or that leads wouldn't take their time to watch a video about your company? Or you believe the cost associated with producing videos was very daunting?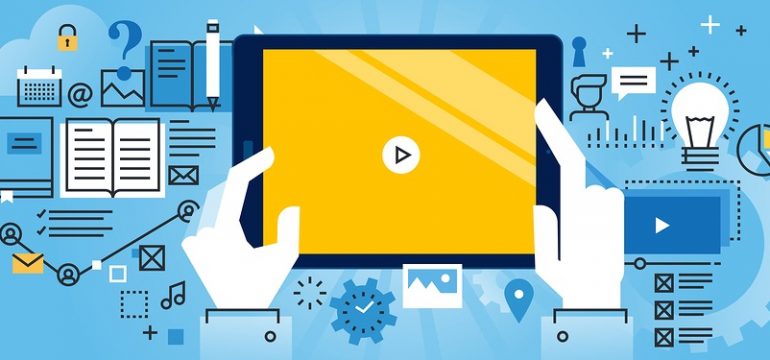 You'll be surprised how easy it is to create videos now. But more importantly, at no time in human history have business owners and marketers had the power to reach so many prospects at such little cost via social media and other digital outlets.
Understand the psychology and you'll grasp the true power of video
We're definitely in a more data rich world compared to the generations of our parents and grand parents. Even though reading stays viable, it takes more time and as modern societies, we perceive ourselves to be so short on this important commodity that any means to save time is highly appreciated.
Quite simply, video communicates with us at a much quicker rate, and when supported by visual elements, we can grasp the subject matter that much faster; we're a race in demand of instant gratification!
Humans are social beings and this trait is no accident; historically it is a means of survival. Humans that banded together had a higher chance of survival than those that went it alone – our brains are literally programmed this way, so any tactic as a business owner or a marketer that can take advantage of this trait should be utilized!
To build a strong sense of community among humans, we look for people that share the same values and beliefs as we do (if they do not share the same values and beliefs, then maybe they provide us with another source of value which we deem important such as knowledge, security etc).
Long story short, video is a brilliant format to convey the values of your brand, product, service and employees to your prospects and customers. Video is a method that conveys emotion, something very important in all marketing. Body language and vocal tone help you convey a specific message better than words can. However, it means creating a compelling story around that emotion to make it genuine for the viewer and this is where many brands fall short.
Why video content marketing works so well
1. Videos are statistically more engaging than other types of content
Statistics show consumers are 27% more likely to click on a video over a standard ad on a web-page. This stat was already known six years ago, and it's only grown considerably in the years since.
What's most important first is to create a hook with your video. Viewers are ready to listen, as long as you follow up with the promise you make. Content is still king in this regard, and you may need help creating this content if you don't know how to approach it.
2. You can incorporate all media forms into a video

Image source: Martino Flynn
Multimedia is a popular way to approach marketing since it provides more creative approaches to how you present your brand.
Keep in mind video is the only medium where you can incorporate all other mediums in one. It's possible to include not only visuals, but also graphics, text, as well as creative audio.
Many businesses choose to repurpose their prior marketing content into video form. For instance, you could take an old text blog and turn it into a compelling video about something related to your industry.
3. The immediacy of video
Since you can instantly post videos to social media, your followers see what your message is in seconds. Engaging customers in a micro-moment has become a new marketing goal. Regardless, you have to bring value in the video content to make the immediacy work.
Posting videos so they're easily accessible on mobile devices is what also makes videos stand out from other mediums. Being able to post a real-time video for mobile consumption is the greatest way to approach marketing today.
Thanks to live streaming apps like Facebook Live, you can reach new and established leads in seconds, something not possible posting a blog or an infographic.
4. Inciting urgency and action
With the exciting ability to convey emotion in your videos, you can persuade the viewer they need to take action now. The more you bring a sense of urgency, the faster you'll get people to take your call to action and buy one of your products.
What other medium is there where you can potentially bring actions like this so fast? Considering it takes time for blogs and other media to rank on search engines, you could lose valuable leads in the process.
Contact us at React so we can create compelling marketing videos that rise above your other marketing media. We're available to help you with all aspects of video and content marketing.
In the infographic below, designed by the guys from RendrFX, you'll discover 37 must-know fact about video that can guide your brand-new content strategy.